and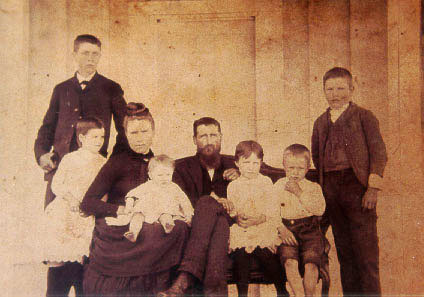 F. M. Pope Family around 1870
(William, Clara, Ophelia, Robbie, Francis Marion, Bertha, Frank, Lewis)
---


Constantly! We will continue to update these files as new information is acquired.
The data originally contained in these files was lovingly collected by great aunts and cousins. Years went into amassing a few items of information such as are available through the Internet within 24 hours. We have been the fortunate recipients of this data, and we have only recently begun to expand this rich family history. Katie felt an instinctive attraction to history and to family history in particular. LaFaye confesses that her initial interest was primarily an extension of her computer hobby, but she has come to understand the satisfaction that her relatives found in this research. As we read and learn more about our family history, we find that the broader history comes to life for us. Since we did not personally conduct a large portion of the research that produced these many of these pages, and since much of the data was collected at a time when resources were more inaccessible, we cannot insure the accuracy of all of our information. We welcome feedback concerning any errors that may be detected, and, of course, we would be pleased to hear from all the "cousins" out there who share these lines.
When we began this project, we did not appreciate the importance of citations, despite our own scientific backgrounds. We fully appreciate that the information herein is only as good as the sources. Where there are none cited, it may mean that we have never seen a source, or it may be that we didn't recognize the importance of including source material when we uploaded this chunk of information. Please ask for sources, and if there are no sources, consider it as we do - as only heuristic suggestion.
There are several locations where links may be found to other sites:
A good place to start is The Genealogy Home Page.
The link to anything genealogical can be found on Cyndi Howells pages. Cyndi Howells now has over 185,200 genealogy links, categorized & cross-referenced, in over 150 categories on Cyndi's List of Genealogy Sites on the Internet. This is truly "all you need to know" about genealogy!
We have created a Genealogy Database for the Web on this Genealogy page using the HTML converter developed by Gene Stark and available through
Experimental GenWeb Index which currently indexes hundreds of World Wide Web databases containing genealogical data for nearly five million individuals.
Evidence for one of LaFaye's lines comes from a Family Bible of the Cunningham family. The five pages include the Marriage Page, Births, Deaths, and Miscellaneous.
Tim Doyle maintains the GenWeb, an excellent reference page for genealogy, including a complete links to databases on the web.
GenServ, operated by Cliff Manis, is another reference to the principal sites.
The Roots Surname List provides a means of connecting genealogists who are searching for the same surnames. There are now 404,790 surnames submitted by about 55,492 genealogists.
And, on the subject of surnames, a promising, new avenue for sorting out lineages and determining kinship with others with the same surname is the FamilyTree DNA Project. Further information about the use of DNA in Genealogy research can be found at this site.
A recent addition to the storehouse of genealogy tools on the Web is GenMatch. Chris Perry has developed a program to allow subscribers to look for matches between their databases and those of other subscribers.
Ancestry.com is a cornucopia of genealogical and historical databases. There are some free searches, but full access requires a fee.
The Family History Library of the Church of Latter Day Saints (LDS) operates an extensive database that is one of the last free repositories.
David Beckwith is our source for much of my early Smoky Mountain family data. He has a massive database on line of his and collateral families on the Smoky Mountain Ancestral Quest page.
Also, Tamy Willard has added her Lusk Family information to the Web.
Another Lusk "cousin," Trudy Lusk has included Family and Genealogy information in her web pages.
Katie and her family can be found at The Crow's Nest.
LaFaye's Home page can be reached through the Home button above or by clicking here.
Finally, our most immediate ancestor, our mother Aline Chalfant, has added her Web Page to Cyberspace.
Listed are approximately 7242 relatives and ancestors of LaFaye Cunningham Sutkin and Mary Kathleen "Katie" Chalfant Crow. We have added about 45 photos of the more recent generations.

Please send suggestions, additions and corrections to lafaye.sutkin@verizon.net or kcrowrn@charter.net
---
Copyright 1996, 2003, all rights reserved.